商品描述
PORTABLE HANDCRAFTED FM/DAB+ RADIO WITH HIFI BLUETOOTH® SPEAKER
Worlds loudest small portable radio!
The next generation Touring/S+ is a portable DAB+/FM radio and speaker that lets you enjoy your favorite tunes anywhere, anytime. Perfect for adventurous types, it delivers dramatically improved sound and plays up to 100dB! Up to 20 hours on a single charge, all in a compact Swiss-engineered design that can be picked up, packed up and played loud.
Small size, big sound.
Don't let its small size fool you: The Touring/S+ packs a huge punch when it comes to sound – it can play up to 100 dB. Designed and expertly tuned for radio, voices are clear and rich. Instruments are detailed and well-positioned, as if right there with you. It may be the smallest DAB+ radio on the market, but its balanced sound makes a huge impression.
Elegance, anywhere.
Wherever you put the Touring/S+ down, people will notice its timeless design. It has taken years of meticulous planning to pull this off. The beautifully finished aluminum top is adorned with laser-engraved touch buttons, each providing a direct connection with the music. The solid aluminum dial completes the feeling of quality. Everything is machined and engineered with the precision of a Swiss watch. 
Refreshingly simple to use.
Hitting play and enjoying your day: this is what really matters. We've designed the Touring/S+ to be super simple to use, so you can relax and just listen. Quickly tune into DAB+ and FM radio with six presets, use Bluetooth® with auto-connect to stream from your digital devices in seconds, or plug straight in with a 3.5 mm jack. The long-lasting and powerful rechargeable battery means you won't be hunting for a power socket every day either.
GENEVA Touring/S+
Features: 
Bluetooth / FM DAB Radio / Line-In
Batteries: Up To 20 Hours
Dimensions: (WxHxD) 170 x 100 x 45mm
Color: 1) Red 2) Cognac 3) White 4) Black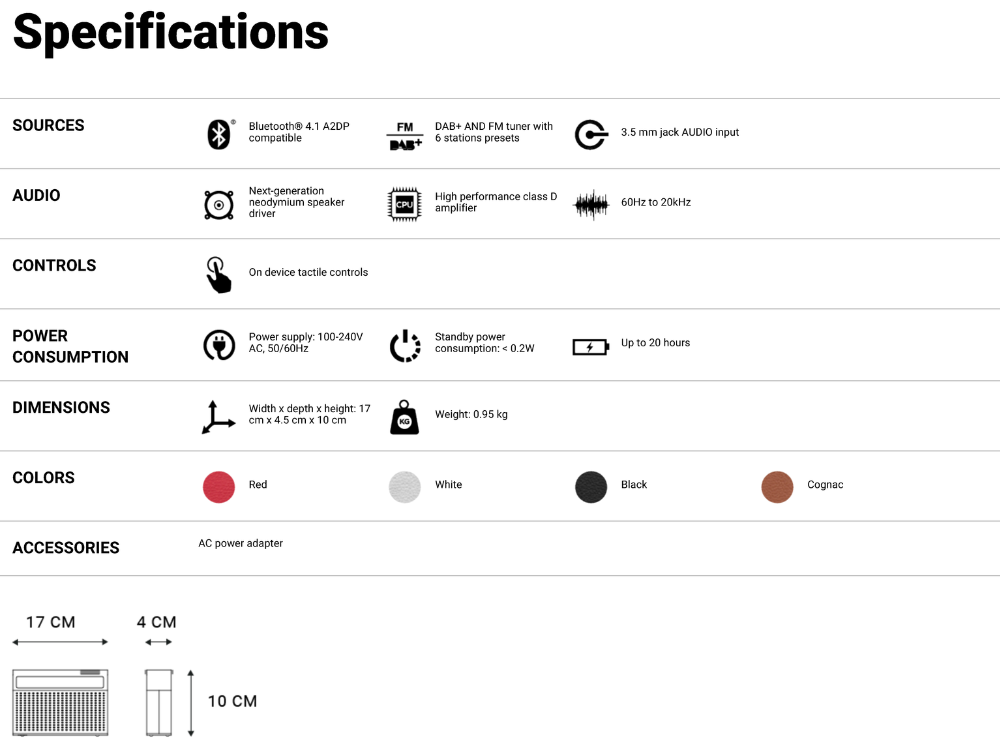 顧客評價
{{'product.product_review.no_review' | translate}}